The academic dean, along with the registrar, have announced two new changes for the next academic year: first, the academic calendar will be adjusted to be a 12-month calendar; and second, we're introducing a new course delivery modality called residential focus courses.
In the video below, Dean Lange provides some basic information about the changes and why we're making them. Additional details follow the video.
New 12-Month Academic Calendar
The new academic calendar will consist of:
A 12-week fall semester
A 6-week winter term
A 12-week spring semester
A 10-week summer term
What does this mean for you?
It's now possible to get through the entire M.Div. program in two years, plus a third year for internship.
We have added additional opportunities for DL students to come to campus for their residential credits (see below for more on the new course delivery modality, Residential Focus Courses).
You have more flexibility in designing your pathway through seminary. The Registrar's Office has developed pathways through the M.Div. and M.A. programs (2-year, 3-year, 4-year, etc.). NOTE: Be sure to check the current catalog for degree program time limits.
The curriculum is not changing; each program maintains the same academic and residential credit requirements.
Residential Focus Courses
There will be no change to the course delivery modalities you're already familiar with: fully online, fully residential, and one-week intensives.
We are adding another course delivery modality called residential focus courses. These consist of a 20-hour in-person intensive period, called a residential focus session, and an additional 19 hours delivered online and/or residentially throughout the remainder of the semester.
There are two residential focus sessions each semester: one at the beginning of the semester and one in the middle. During each residential focus session, you can take up to two residential focus courses. This means you could take a maximum of four residential focus courses in a semester.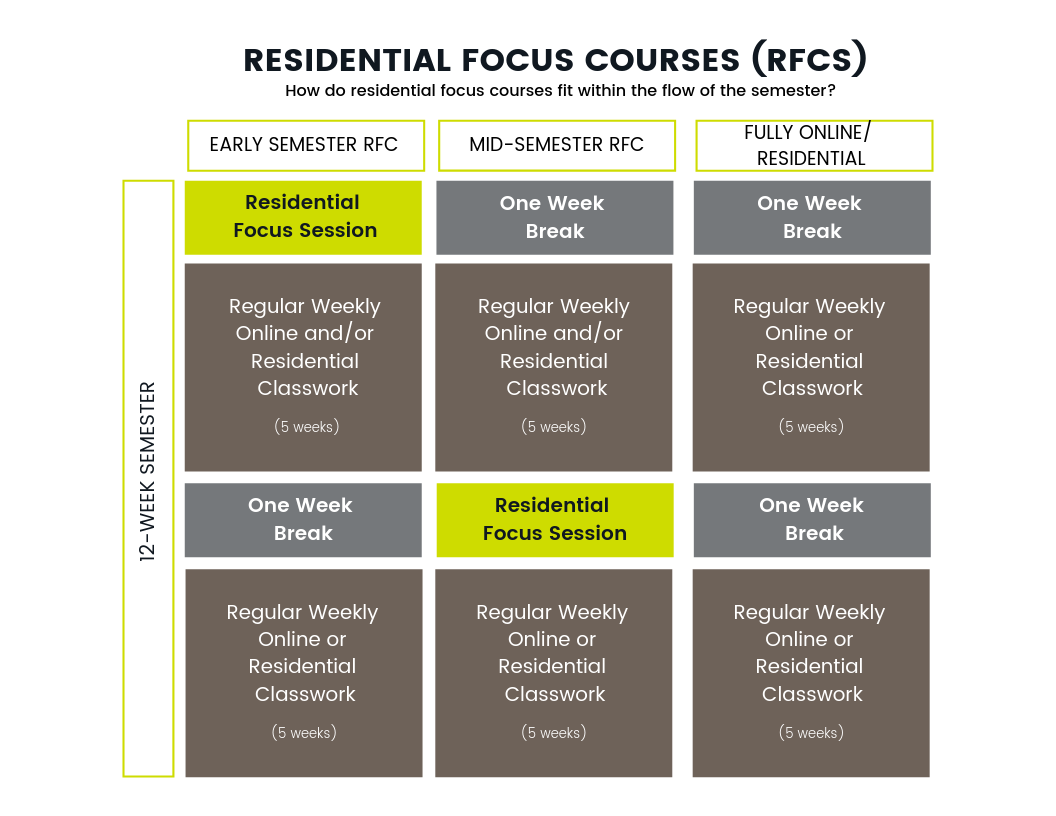 What does this mean for you?
No additional classes (other than residential focus courses) are scheduled during residential focus sessions.

Residential focus courses count as residential credits for DL and international students.
There is no change to the residential credit requirements for DL and international students. The addition of residential focus courses simply increases the availability of residential credits so that you can be more flexible in your planning.

Have questions? Here are more resources