As many of you know, the Luther Seminary board of directors met this past weekend. Much of their conversation centered around plans for the campus of the future, and included some action regarding housing.
In particular, the board reaffirmed the important role student housing plays in meeting Luther's curricular commitments and fulfilling our mission and vision.
While real estate transactions involve a lot of moving parts, and there are some details we can't yet know, there are plenty of things that have come into focus thanks to the work of the housing sprint team that met this summer and the board this weekend. President Steinke has created a video update on the housing strategy. Please click the video image below to view it!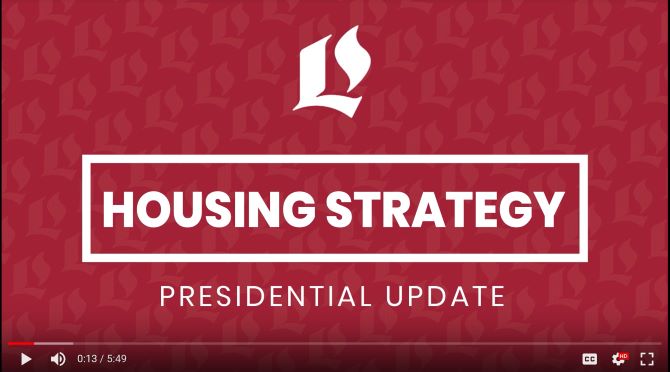 Some key points from the video are summarized below:
Immediate Plan
No change in housing during at least this academic year.
Establish a centralized housing office.
Review all bids for campus sales. All finalists have already taken housing seriously and have included solutions in their proposals.
Transition Plan
While the specifics will depend on the real estate deal that is signed, we are committed to timing development of the buildings so that we retain usage of adequate on- or near-campus housing for residential students and swing space for faculty, staff, and classes during the transition period.
Long-Term Plan
Repurpose Bockman Hall for housing through a partnership with a third-party developer.
Retain the houses along Branston and Grantham Streets for student housing.
Explore partnerships with properties near campus for families in particular.
Explore partnerships with churches for intentional living communities.
Explore establishing a need-based scholarship fund for housing/living expenses.
Next Steps
Interim Dean of Students Sarah Luedtke-Jones has been tasked with working on the establishment of the housing office, including defining responsibilities and scope of work for the office.
Consult with a specialist in student housing to help refine strategy.